Ultrasound and Lab Testing Services in Chesapeake, VA
Whenever you or your loved ones are sick, it can be worrisome. Luckily our team of medical professionals here at Family Medicine Healthcare fully understand and empathize with any concern, you may have. That is why we are happy to provide excellent In-house Ultrasound and Lab Testing Services to help you find the answers you need. For more information, please

call us

or schedule an

appointment online

!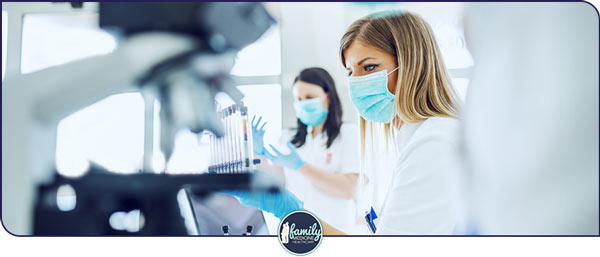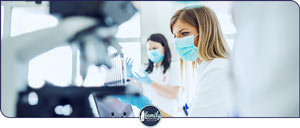 Table of Contents:
How does ultrasound work?
What can ultrasound be used for?
When should I get lab tests done?
Will my insurance cover ultrasound and lab testing services?
How does ultrasound work?

Ultrasound technology works through high-frequency sound waves that are sent out from a transducer into your body. These sound waves bounce off of internal tissues and organs, which creates an echo that returns to the transducer to generate an image on a sonographer. Ultrasound scans are usually performed by an ultrasound technician and sent to a doctor who can analyze and interpret the image results back to the patient. These images can be helpful for several different diagnostic procedures or health monitoring purposes. Ultrasound is a safer alternative to X-ray for diagnostic purposes because it does use radiation.

What can ultrasound be used for?

Ultrasound has many applications and uses! We are proud to provide this excellent medical technology to our patients right here in our clinic. Whether you are pregnant, worried that you are suffering from gallstones, or require an ultrasound for a diagnosis, we have got you covered at Family Medicine Healthcare with our state-of-the-art ultrasound equipment! The following is a list of uses and applications of ultrasound technology:

• Examining uterus and ovaries during pregnancy
• Monitoring the health and development of the baby (fetus)
• Examining breast lumps to determine if they are cancerous or benign
• Checking the thyroid gland
• Assessing joint inflammation
• Evaluating bone diseases or disorders
• Diagnosing gallbladder disease
• Locating stones in gallbladder or kidney
• Guiding a needle for joint injection or tumor treatment

The above are just a few of the different ways that ultrasound technology can help us help you! Let us know if you need ultrasound treatment for any other medical concern.

When should I get lab tests done?

Laboratory tests, whether blood tests, swabs, or urinalysis, are another great diagnostic tool for doctors and patients alike! That said, such value is often lost on many individuals who are unaware of how lab tests can help them or not sure when it is an appropriate time to request lab testing. If you experience unusual and persistent symptoms, such as significant or sudden fatigue, difficulty sleeping, abnormal weight gain, or new pain, a lab test can get to the bottom of what is bothering you! Lab tests are also helpful for preventative measures and optimizing your health, as they can determine if you have any vitamin or mineral deficiencies, if you are prone to high cholesterol or blood sugar levels, or if you are more prone to any diseases. This knowledge can help you make appropriate lifestyle changes to accommodate your bodily deficiencies or tendencies and reduce your likelihood of illness or complications.

Will my insurance cover ultrasound and lab testing services?


While insurance coverage ultimately varies from company to company, most medical insurance providers will cover any necessary ultrasound and lab testing services requested by a doctor. Thus, it is a good idea to check in with your insurance provider directly to see if they will provide coverage for ultrasound and lab testing before your appointment. As for us at Family Medicine Healthcare, we are happy to accept most health insurance plans so that you can receive medical care at an affordable rate! Please bring your health insurance card with you when you come for your appointment.

If you require lab tests or ultrasound services, we have got what you need at Family Medicine Healthcare! You can schedule an appointment with us through our website or give us a call. Our Family Medicine Healthcare clinic is located at 3925 Portsmouth Blvd Chesapeake, VA 23321.