Family Care Clinic in Chesapeake, VA
Here at Family Medicine Healthcare, we are proud of the friendly and caring atmosphere that our team of medical professionals has created. If you are looking for a warm and welcoming place to receive excellent medical care for you and your family we got what you need at Family Medicine Healthcare! For more information,

call us

or schedule an

appointment online

.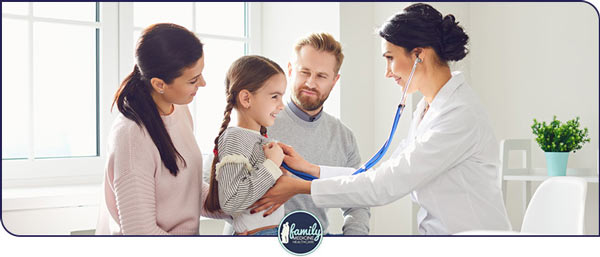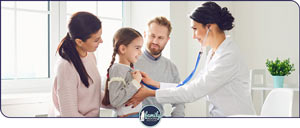 Table of Contents:
What kind of service can I expect at Family Medicine Healthcare?
What services does Family Medicine Healthcare provide?
Do you see patients of all ages?
Do you accept insurance at Family Medicine Healthcare?
What kind of service can I expect at Family Medicine Healthcare?


At Family Medicine Healthcare, the title of our clinic is not just a description of what our physicians specialize in, but it is also meant to explain how we view our patients—as a member of our own family! Since we treat all our patients like family, your health and well-being are always our highest priority. To us, you are not just a name on a chart, but an individual that we hope to help live your best life and get to know on a true level, in both sickness and health! As such, you can always expect compassionate and sincere care from every member of our staff, from our physicians and nurses to our administrative staff and financial coordinators. It is our mission to serve you with the utmost care and expertise the minute you walk through our doors!

What services does Family Medicine Healthcare provide?


We would be remiss if we had to turn a patient away because we did not have the services they sought! While we will reroute you to the emergency room or call 911 for you if you are experiencing a life-threatening medical emergency, we hope to help you with any other medical concern, even if that means sending a referral for more specialized treatment. In order to serve you sufficiently, we offer the following services and treatments at Family Medicine Healthcare:

• Aesthetic services, such as skin rejuvenation, body contouring, laser hair removal, and skin tightening procedures
• Arthritis treatment
• Chronic pain management
• Comprehensive annual physical exams
• Department of Transportation (DOT) physicals exams
• Diabetes management
• Echocardiograms
• Geriatric care
• Heart disease treatment
• High blood pressure or high cholesterol treatment
• Men's health and prostate disorders
• Minor injuries and procedures
• On-site laboratory, including ultrasound, X-ray, and EKG services
• Pediatric care, including well-child visits and vaccinations
• Post-stroke treatment
• Pre-employment physical examinations
• Sleep apnea treatment and take-home sleep studies
• Sports and school physicals
• Thyroid care
• Urgent care
• Women's health services and gynecological care

Do you see patients of all ages?


Age is just a number, as the adage goes, and we believe that to be true when it comes to healthcare at Family Medicine Healthcare! As a result, whether you have lived a long, experience-filled life or have a bright-eyed newborn who needs to see a doctor, we would be happy to see you. Our physicians and nurses have all of the required training, education, and experience to provide expert medical attention for pediatric care, adult care, through to geriatric care. Family always implies multiple generations, and we are proud to honor that at Family Medicine Healthcare.

Do you accept insurance at Family Medicine Healthcare?


Absolutely! We want to make healthcare as accessible as possible to you and your family, which is why we are happy to accommodate most any health insurance plan that you have, including Aetna, Anthem, Cigna, Human, Medicare, Medicaid, and United Healthcare, to name a few. If you have insurance, please bring your card with you to your appointment!

For an intimate healthcare experience, come to Family Medicine Healthcare! We welcome you to schedule an appointment with us through our website or call us. You can find Family Medicine Healthcare at 3925 Portsmouth Blvd Chesapeake, VA 23321.