Ashley Welch at Family Medicine Healthcare in Chesapeake, VA
Get to know more about the people who look after you. Meet our staff member, Ashley Welch, a dedicated nurse at Family Medicine Healthcare.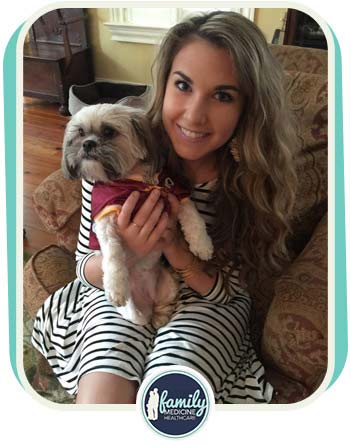 Ashley Welch joined our Family Medicine Healthcare nursing team right out of Nursing School at MCI, almost 4 years ago. She loves working closely with our patients to help them feel better and live healthier lives. Ashley is known around the office for her kindness and empathy for patients, as well as her fellow co-workers.
Your Family: I was born and raised here in the Chesapeake area. My family is local, too. I love being close to my parents, as well as my grandmothers and my brother. My four year old Shih Tzu, named Maci, is my "baby" and best friend. Even my dad and my boyfriend, Sean, spoil her rotten! (pictured below)
My greatest accomplishment: Without a doubt, my greatest accomplishment is graduating Nursing School and becoming a licensed LPN. I remember sitting in my car after taking my boards and just crying, waiting the thirty minutes to see if I passed (you can check online to see your score). Passing was a huge moment in my life.
I remember driving straight from the test to Lake Gaston to celebrate with my family on our annual family vacation. I love that my career allows me to help people on a daily basis and make a positive difference in the lives of others.
Someone who I greatly respect and why: I greatly respect both of my parents for more reasons than I can even count. They have raised my brother and I to value hard work and to respect others. This strong work ethic has greatly benefited me in my nursing career.
In another life, I would be: To quote the wise and funny words of my Mom: "I would be a husband with a really good wife!"
If I ever played hooky, I would_____: I would be on our family boat at Lake Gaston! (Yes, Maci would be there, too!)